The Rolex Explorer is built to survive the toughest conditions with the most adventurous of pioneers. While the Explorer can withstand perilous expeditions, it makes a stylish watch for the city-slicker, too!
History of the Rolex Explorer
By the 1950s, Rolex already had a reputation for making watches that were reliable, waterproof, and tough. Therefore, it was no surprise that the watch company wanted to create a model that could survive conditions on the highest mountains, in the deepest caves, and harshest climates.
The Rolex Explorer was launched to celebrate the monumental climb of Mt. Everest by Tenzing Norgay and Sir Edmund Hillary in 1953. Since the Explorer is connected to such a turning point in history, it's one of the most sought after pre-owned Rolex watches in the world. For the next 20 years, Rolex would continue equipping explorers with waterproof watches.
Key Features of the Rolex Explorer
There are two models of the Rolex Explorer, each with their own unique history and features: the Explorer and the Explorer II. The Explorer is a time-only watch while the Explorer II is a dual-time watch (on the majority of models). Every Explorer is made with stainless steel to face the elements without rusting. Also, there has never been a two-tone or solid gold version of the Rolex Explorer, unlike other Rolex models. The price point is another notable feature of the Rolex Explorer. Pre-owned models start as low as $4,500, so it's one of the most accessible Rolex models for purchase.
The Rolex Explorer in Pop Culture
While the Explorer got its start on the wrists of mountain-climbers and spelunkers, it's also on the wrists of celebrities walking the red carpet. Here are some notable Explorer owners:
Prince Harry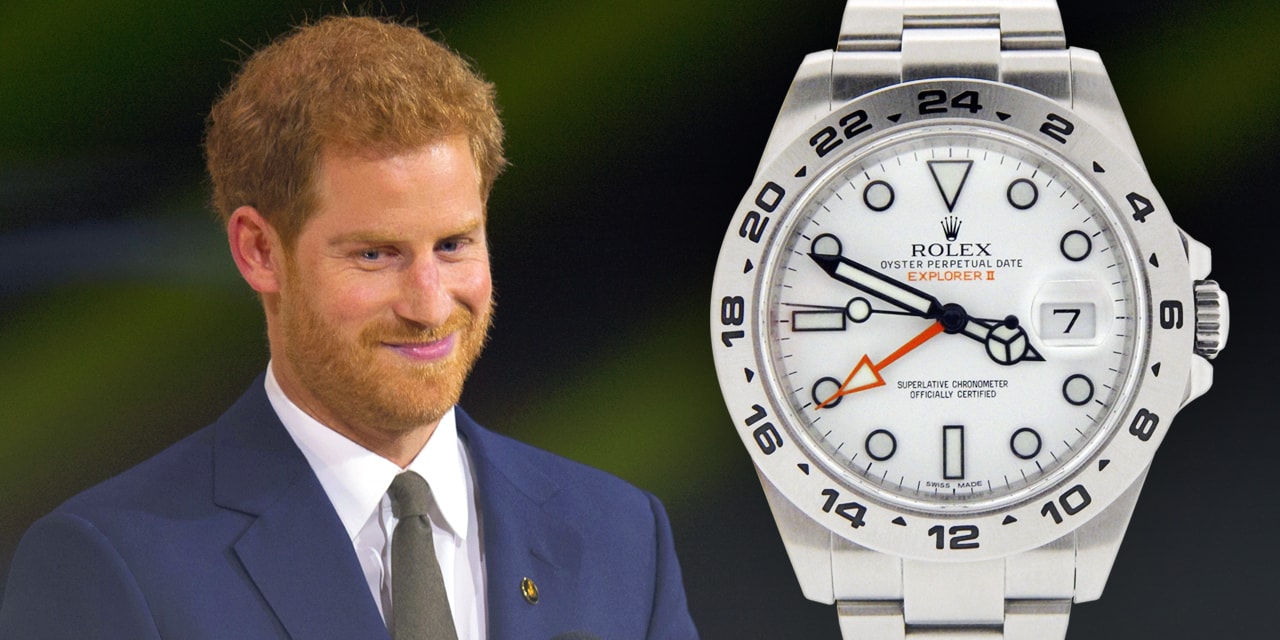 The British heartthrob prince served several terms in Afghanistan as a Captain in the British Army. His Rolex Explorer II was perfect for extreme weather and harsh conditions.
John Mayer
Mayer is a notable luxury watch fan and self-proclaimed expert. He believes that you don't need to be mega-rich to own an awesome Rolex watch. Back in 2012, he wrote an article for Hodinkee on his favorite vintage Rolexes under $8,000. Included on his list is the Rolex Explorer II Reference 16550 (Black Dial). In fact, the Explorer II is the watch with the lowest price point on his list, ranging from $4,500 to $5,500.
Tom Hanks
This beloved actor and producer sports a Rolex Explorer I with a black dial. Hanks is a big Rolex fan; his collection includes a Seadweller and a GV Milgauss.
How to Spot a Fake Explorer
A trained eye can spot the difference between a real and a fake Rolex quickly. A tell-tale sign of a fake Rolex is a second hand that ticks rather than sweeps. If you see the second hand counting seconds with a ticking motion rather than a smooth motion, it's an easy sign of counterfeit. Another sign that might be less obvious is uneven or inconsistent font. For example, the text that reads "OYSTER PERPETUAL" on a real Rolex dial will be sharply printed, evenly-spaced with consistent thickness. If the font looks funky, it's a fake.
While there are tell-tale signs of fake Rolexes, counterfeiters are getting better at fooling the naked eye. Sometimes, the best way to make sure a Rolex is authentic is to have an expert open it up and inspect it. Our luxury watch experts at Dallas Gold & Silver Exchange have decades of experience and can spot the Rolex from the "Faux-lex" in a sweeping second. If you've purchased a Rolex and think it's counterfeit, we'll check it for you free of charge!